Vindicator's Key is the main twist of Minecraft Survivor: Caribbean.
Vindicator's Key
Minecraft Survivor Gameplay
Description:
A game-changing twist, in which eliminated players must pass trials in order to get a chance at returning to the main game.
Appearances:
Caribbean
Overview
Vindicator's Key is often said to be a combination of Survivor's Redemption Island and Edge of Extinction.
Once a castaway is voted out of the game, they are presented with a choice:
Leave the game permanently
Go to Vindicator's Key in an attempt to return to the game
Castaways that choose to go to Vindicator's Key must complete a trial following each tribal council. If they succeed, they are allowed to stay on the key. If they fail the task, they must board the ship used during the marooning, and leave the island, eliminating them from the game for good. At a predetermined time, the castaways remaining on the key will battle in one duel, with the winner returning to the game.
Castaways are given little to no information about the following: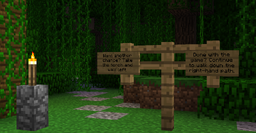 1) What they should expect at the key
2) How long they will be staying on the key
3) What they must do to return to the game The only information they are given is found in a treemail-esque box on a white mast that sits on the outskirts of the island.
History
Caribbean
Following the first tribal council, Corcaigher took the torch and went to Vindicator's Key. He successfully passed his first trial and remained on the key.
After being the second person voted out, Hannah chose to go to Vindicator's Key. Both her and Corcaigher completed the maze challenge and stayed on the key.
Asher was the third person sent to the key. His inability to maneuver through 1.13, along with Corcaigher's sabotage, made him fail the third task and officially eliminated him from the game.
Joseph took the torch following his elimination. He, along with Corcaigher and Hannah, were able to shoot down all of their targets and survive Vindicator's Key.
Following his abrupt vote out, Chase chose to take the torch and venture to Vindicator's Key. Joseph, Corcaigher, and Chase quickly finished their puzzles. They all went on to help Hannah finish her's. They all survived the trial and stayed on the key.
Marty took the torch after he was voted out. All five contestants on Vindicator's Key survived the ladder endurance task and stayed alive on the Key.
Once Lizzy was voted out and chose to continue her adventure, the final Vindicator's Key challenge took place on Day 23, where the tribes merged. A fatal error by Marty led to Corcaigher returning to the game, permanently eliminating the other Vindicator's Key castaways from the game. Vindicator's Key was retired after Corcaigher's return.
Vindicator's Key Trial History
Season
Episode
Trial Description
Passed Trial
Failed Trial
Caribbean
"Not Kamikaze-ing Myself Out"
Gather 64 wooden planks and use
them to build a shelter.

Corcaigher
None
"Smokin' Cigars in the Dark Basement"
Complete the maze in 2 minutes or less.

Corcaigher

Hannah
None
Scavenge the island, find 3 specific items,
and bring them back to your station.

Corcaigher

Hannah

Asher
"Being Served Two Bowls of Cereal"
Shoot 5 targets of your color using tridents.

Each player is given 7 shots to do so.


Corcaigher

Hannah

Joseph
None
"A Healthy Nervous"
Navigate a coral block from one side of your game board to the other using pistons and buttons. The castaways have only 5 minutes to do so.

Corcaigher

Hannah

Joseph

Chase
None
"The Sincerity in My Voice"
Stay on the ladder without shifting for a predetermined amount of time.

Corcaigher

Hannah

Joseph

Chase

Marty
None
"Ship's Leaving...See You on the Other Side!"
Complete the obstacle course and recreate the torch first.

Corcaigher

Hannah

Joseph

Chase

Marty

Lizzy
Trivia